PLEASE NOTE THAT THE CAFE SERVICE MEETINGS SCHEDULED FOR 8 APRIL AND 13 MAY HAVE  BEEN CANCELLED AS A PRECAUTIONARY MEASURE RELATED TO THE CORONAVIRUS PANDEMIC.
Please do come and join us for a short act of worship and lunch. We meet on the second Wednesday in the month and all are welcome.  Sandwiches, savouries and cakes are being bought in and a donation towards this cost may be made. We will meet in the Lecture Room at Over United Reformed Church at 11.30am.
The next Café S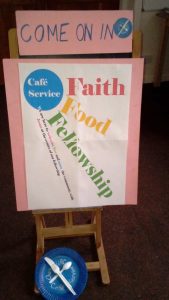 ervice  on 8 April when which was to have been led by Revd  David Spence has been cancelled – see above.
Café Service dates and leaders for the rest of 2020 –
May 13   –   Revd Michael Field – cancelled, please see above.
June 10   –   Revd Murray George
July 8   –   Mr Michael Ridley
August 12   –   VIP
September 9   –   Revd Garry Wareham
October 14   –   Mrs Roberta Bonner
November 11   –  DIY  !!!!!