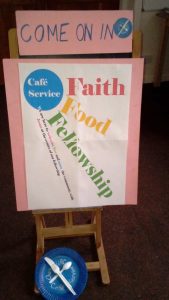 Please do come and join us for a short act of worship and lunch. We meet on the second Wednesday in the month and all are welcome.  Sandwiches, savouries and cakes are being bought in and a donation towards this cost may be made. We will meet in the Lecture Room at Over United Reformed Church at 11.30am.
The next Café Service will be held on 9 October when we will be led by Mrs Roberta Bonner.
The final Cafe Service for  2019  will be on 13 November when the leader will be Revd Garry Wareham.