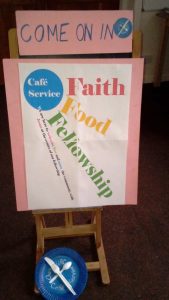 Please do come and join us for a short act of worship and lunch. We meet on the second Wednesday in the month and all are welcome.  Sandwiches, savouries and cakes are being bought in and a donation towards this cost may be made. We will meet in the Lecture Room at Over United Reformed Church at 11.30am.
The next Café Service  will be held on 11 March when we will be led by Revd Jennie Wakefield.
Café Service dates and leaders for the rest of 2020 –
April 8   –   Revd David Spence
May 13   –   Revd Michael Field
June 10   –   Revd Murray George
July 8   –   Mr Michael Ridley
August 12   –   VIP
September 9   –   Revd Garry Wareham
October 14   –   Mrs Roberta Bonner
November 11   –  DIY  !!!!!